Breaking the Code (BBC-WGBH drama, 1996)
Depicting the later life of codebreaker Alan Turing. Seen right at the end, on Alan Turing Way in Manchester, is this DAF/Duple of Haytons, JIL2189. More information welcomed: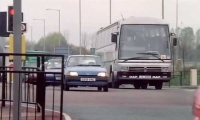 A bus seen passing at night in a scene set in Manchester is not seen well enough to identify.