Newsreel N to P
---
New Gas Driven Bus AKA Perth (1937, British Pathe News)
Highland Omnibuses single decker pictured in Perth running on trade plates: 025ST

Peter Tulloch comments: "The vehicle is:

76 ST9465 Gilford HSG H1501 Cowieson B31R New 12/37 to Highland Transport, Inverness.

However, in an article in the 21st May 1938 edition of Modern Transport there is an article on Highland Transport. In this article the author claims that Highland Transport have a very well equipped body shop which carries out many a substantial rebuild. He goes on to claim that they laid down the body for one vehicle which was mounted on the 'gas bus'. This can only be ST9465. It may well have been that the body was completed by Highland, but on Cowieson frames.

Incidentally, the body was later removed from the Gilford, rebuilt to B35F configuration and fitted to MV1878, an AEC Regal with Highland Transport (54)."

Martin Ingle comments: "ST9465 is one of those vehicles that's terribly famous but never quite got right – it wasn't registered until 1/38 and quite obviously not B31R as the stills clearly show!!! Squinting at the enlarged stills puts it at B32F."
---
New Ideas For Road Transport (1950, British Pathe News)
Coverage of the 15th Commercial Motor Show at Earl's Court, London includes exterior and interior views of a left hand drive Leyland Olympic with fleet no 1287.
---
News in a Nutshell (1935, British Pathe News)
One of the items concerns a little boy, Tommy Johnstone, driving a model bus his father built for him. He is seen leaving Brighton in the company of Southdown 1076 (UF9776), a 1932 Leyland Tiger TS4/Harrington. He arrives in London escorted by Southdown 1002 (UF5742), a 1930 Leyland Tiger TS2 newly rebodied by Harrington. On arrival he is greeted by a large crowd and the comedian George Robey.
---
Newspaper and Transport Strikes in Philadelphia and New York (1963, British Pathe News)
Footage of idle Philadelphia tram cars and several buses.
---
No-Clippie Buses Cause Strike (1955, British Pathe News)
The City of Sheffield deals with transport staff shortages by hiring in independent coaches operating a pay as you enter service. A fare box is positioned inside the (front) entrance into which passengers
are asked to place their fares. No tickets are issued. Conventional bus crews are unhappy and launching strikes. Footage of Leyland Titans (including RWJ715) and trams in Sheffield. A Bedford SB/Duple bus NWB685 of Andrews Coaches is seen operating a pay as you enter service on hire with number 98 on a card in the front window.
---
Old Bill (British Pathe News)
View of horse-drawn trams by the sea front on the Isle of Man. An 1896 Manx electric tram is seen being repainted at the British Transport Commission in Clapham. Archive footage shows 'Old Bill', a preserved London General B-type doubledecker bus that served as a troop carrier in France during World War One. A modern day RTL class Leyland Titan PD2 is followed by Old Bill, which is then seen
stopping next to an AEC K-type.
---
Old Bill - King Inspects Bus (1920, British Pathe News)
King George V inspects one of the first London General B-type buses to be sent to France in World War One as a troop carrier - now back in its old job.
---
Outside Only (1922, British Pathe News)
The fitting of a folding canvas canopy to an LGOC B type. Seen from the side, the original footage would yield a fleet number.
---
An Overall Overhaul (1934, British Pathe News)
This clip describes overhaul procedure for London's buses. Seen being stripped down is London General AEC Renown LT992 (GW5842), then LT572 (GP3521) is seen being tilt tested: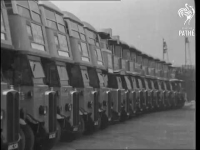 ---
Panzers Welcomed (1961, British Pathe News)
German tank troops arrive in Pembroke, West Wales for training aboard a Bedford SB/Duple Super Vega.
---
Peaceful Years reel 7 (1919-38, British Pathe News)
A brief shot of the rear platform (and conductor) of what appears to be Leicester Corporation 315 (BRY377), a 1937 AEC Regent/Northern Counties.
---
People in Camera (1947, British Pathe News)
Bridport, Dorset: a strongman is seen pulling coach VN7272 (a smallish vehicle about the size of a Dennis Ace) with his hair!
---
Practice Civil Defence (1963, British Pathe News)
A large scale Civil Defence in Hackney, East London uses a series of what appear to be LCC Bedford J2s with Duple body (screencap by Bob Wingrove):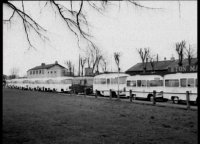 ---
Pram Bus (1942, British Pathe News)
In Melbourne, Australia, a Melbourne Metropolitan Tramways Board normal control bus is designated as a 'Pram Bus' and shown in action as the conductor carries prams and buggies on and off -
definitely not a low floor design!
---
Pram Relay (1962, British Pathe News)
Hatfield College of Technology wins the Inter University Pram Race, assisted by Reg's Tours Bedford SB/Dupe Vega NNT377.
---
Private Coach (1953, British Pathe News)
OKJ210, Bedford SB/Duple of Watson, Strood - a luxury coach with hostess service, radio message service and toilet providing free travel to London, seen leaving Aylesbury. It's the idea of car dealer Raymond Way to bring potential customers to his car showroom in Kilburn! (Thanks Martin Ingle)
---
Racing Bus Driver (1963, British Pathe News)
Story of a bus driver who races cars in his spare time is introduced with cab and exterior footage of Midland Red 5235 (5235HA), a Leyland Leopard PSU3/Weymann, leaving the depot on a school contract.