Newsreel K to M
---
Latest Type of Bus (1973?, British Pathe News)
This unissued footage has excellent coverage of London Transport DMS1380 (MLH380L), a 1973 Daimler Fleetline/MCW, on route C2 operating from Croydon garage.
---
Limousine Buses (1927, British Pathe News)
Footage reporting on the first of '200 six-wheeled pneumatic tyred, 62-seat luxury buses'. In the event only 10 of these stylish Dodson bodied Guy BTX entered service with the City Motor Omnibus Company. YT8954 was new in 1927 and taken into London Transport ownership in 1934, numbered GS21. It is seen in the streets of London, and passing contemporary AEC NS2039 (YE4304) on service 29C while other NSs pass in the other direction:
---
London Buses in America (1952, British Pathe News)
Three London buses go on a goodwill tour of the USA and Canada, RT2775 (LYR826), RT2776 (LYR827) and RTL1307 (LYR935). One of these, RT2775, is seen being unloaded from the SS Parthia in New York.
---
London Traffic (undated, British Pathe News)
Footage of Staines, Middlesex; undated but would be about 1949 or early 1950. Assorted ST, STL,RT, TD class buses of London Transport are seen.
Identified vehicles:

ST1089 (KX4656) (an AEC Regent with Short lowbridge body ex Amersham and District)

STL2128 (DLU127) (AEC Regent/Park Royal (this later became SRT126))

STL1256 (BUW576)

TD99 (JXC292) (Leyland Tiger PS1/Mann Egerton)

STL971 (BLH828)

RT889 (JXN267)

STL2148 (DYL800)

Also a further DLU registered STL and a CXX registered T-class AEC Regal
---
London Traffic - Early (undated, British Pathe News)
General footage of London traffic from early to mid 1930s, possibly 1932. A blackboard on which is chalked 'Fires of Fate' is seen in one shot - this is the title of a movie made in 1932 by British International Pictures, and it's suggested the footage was shot for inclusion. Three STs pass a policeman on point duty and a large number of LTs, STs and NSs are seen.

Identified vehicles:

NS181 (XO1097)

NS1611 (XU6152)

ST431 (GK3158)

ST73 (GC3989)

NS1042 (XP8224) (Metropolitan fleetname)

ST378 (GK3035)

T285 (GH8098) (Green Line livery)

---
Lopping Trees For London Buses (1943, British Pathe News)
Footage of a London Transport treelopper, 648J (GK6277), which was formerly ST1001, new in 1933. Its career as a bus was interrupted while on loan to Bournemouth Corporation when its Tilling body was destroyed in an air raid in 1943. The chassis was returned to London and fitted with a body from a different ST for use as a treelopper, replacing an NS type. 648J served in this guise until 1953.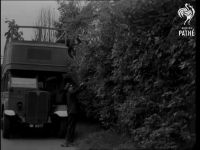 ---
From Maidstone to Madrid (1922, British Pathe News)
A convoy of Tilling-Stevens single deckers seen heading for export to Spain - they have centre rear entrances in the style of Paris Renault buses. There is also footage of the buses in use in Madrid.
---
Mass Attack (1937, British Pathe News)
A large crowd of children go fishing in St Ives, Cambridgeshire. Seven doubledeckers are lined up while children scramble on board. A convoy of three Eastern Counties Leyland Titans approach the camera, then the children disembark. One vehicle is AH208, the registration plate DX8426 is also seen.
---
Man Pulls Bus With Teeth (undated, British Pathe News)
Strongman Wilfred Britton demonstrates his strength by pulling an AEC Regent double decker along with his teeth. The undated film is Australian, possibly shot in Sydney?
---
Midget Car Tested (1938, British Pathe News)
In Lee, South East London, a tiny car is demonstrated. Footage shows it being driven under a bridge at Lee Railway Station and overtaking an AEC Regent STL (registration AXM67x) on service 94; another ST is following behind. What appears to be a third follows the car from under the bridge.
---
Mind Your Step (1936, British Pathe News)
A police van gives instructions to London pedestrians. No bus is indentifiable individually, but open staircase STs, later STLs and an NS are seen in heavy traffic, also what appears to be a Leyland Tiger, owner unknown.
---
Mobile Art on Sale - Croydon (1965, British Pathe News)
Full-fronted former Birch Brothers Guy Arab III/Willowbrook K211 (LXV211) used as a mobile art gallery.
---
Mobile Restaurant (1948, British Pathe News)
Footage of a London Transport Bedford articulated mobile canteen.
---
Model Coach (1948, British Pathe News)
Fourteen years on from the model bus seen in clip 1630.24, the same builder, also named as Ernest Johnstone, demonstrates a model coach on Brighton seafront. It's a scale model Southdown Leyland Tiger powered by a two stroke engine, and has its own licence plate HUF16. Dick Gilbert observes "I've seen a couple of the Johnstone 'Midgets', both Southdown Royal Tiger replicas, and they are amazing. I see the PSV Circle records show 19(!) surviving examples of his work. The one shown in the film is not amongst them, but an identical Tiger PS replica (the only surviving Tiger) wearing number DUF 3 is owned by a Mr A Johnstone of Brighton - the old boy's son perhaps?"
---
Monocontrol Bus AKA Revolutionary Bus (1956, British Pathe News)
Leeds Corporation receives the first of a new fleet of AEC Regent Vs whose controls are so simple that a one-legged man can drive them. Chris Hough notes this was "LCT'S biggest single batch of buses which were lightweight buses with 60 seat Roe bodywork bought for tramway replacement duties. The one legged man featured in the clip was Alderman John Rafferty the then Chair of the Transport Committee on the Council. The item was filmed at Torre Road depot in Leeds".
---
Motor Novelties (1929, British Pathe News)
Brand new Crosville 367 (FM5749), an all-Leyland TD1, is shown demonstrating the upper deck emergency exit. Mike Grant notes this bus was exhibited at the 1929 Commercial Vehicle Show.
---
Multi-Deck Garage (1961, British Pathe News)
Footage of a multistorey car park in Bristol, the first of its kind in Britain, includes a passing Bristol Omnibus Bristol LS/Eastern Coachworks. During the report several Bristol Omnibus doubledeckers pass in the background.