Advertisements L
---
Learn Direct
(2002 advert) A man dressed as a spanner gets off a London doubledecker.

In a second advert a man sitting upstairs on a London T-class Leyland Titan answers the mobile 'phone of the woman sitting in the seat in front of him. The engine sound effects are from an AEC Routemaster! (thanks Bob Wingrove)

(2003 advert) A woman leaves her newspaper on an unidentified single deck bus.
---
Levis Jeans
Shot in moody monochrome apparently somewhere in Russia. A young man gets off a bus with Cyrillic lettering on the side, only the rear of the bus is clearly seen drawing away. The following shot has lots of trolleybus overhead wires.
---
Levonelle One Step
A contraceptive advert is an incongruous place to find a pink cartoon AEC Routemaster - but there it is.
---
Listerine
Mouthwash advert
"featuring bored dentists entertaining themselves due to lack of customers: one shot features a First London bus passing the dentist's window."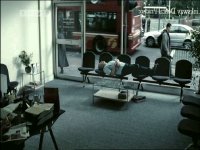 (thanks Stephen Osman)
---
London Regional Transport One Day Travelcard
"In September 1991, London Buses DMS-class Daimler Fleetline/MCW DMS1515 (THM515M) was sold to London Underground for use as a promotional vehicle. It was rebuilt by John Maher as 'Supercar' with the rear two-thirds of its body removed and replaced with 2 specially moulded sections of an Underground carriage and a train. It was used in various advertising material including an appearance in a TV advert:
(thanks Stephen Osman) This unique beast is now owned by Mike Nash in Surrey.
---
London Transport
Daniel Sibson asked if anyone recalls an advert for London Transport buses featuring Formula 1 driver Nigel Mansell. Baz King replies: "Nigel Mansell was indeed given a crash course in driving a bus, and the advert was shown on commercial television in the late 80s. A bus (a DMS I believe) is shown pulling up to a bus stop rather quickly, at which point, an inspector shouts 'Who do you think you are? Nigel Mansell?' Mr Mansell then emerges from the bus, and then the recruitment number comes up, or something similar anyway..."
---
Lucozade

goneabitlara - A Lara Croft impersonator ends up in the back of a transit bus, possibly in Stockholm? (There are several slightly different versions of this ad - in one there is an external rear
shot of the bus, otherwise we only see interior shots)

Winner "In this ad featuring footballer Michael Owen, a Neoplan Starliner coach is shown, with the end scene including Owen sitting on the coach" (thanks Stephen Osman)
---